How do you combine PDFs? In case PDFsam does not work, try PDF Combine. It merges PDF files very fast and works on newer and older computers.
PDFsam Does Not Work? Try PDF Combine: the Best PDFsam Alternative for Merging PDF Files
What do you do when PDFsam does not work for you? You turn to PDF Combine. The latter is arguably the best PDF editor right now. It's not only easy to use, but it's also super lightweight. For that reason, PDF Combine works on newer as well as older computers.

While PDFsam is a more-than-decent PDF editor for merging PDF files, it does have a few drawbacks. For example, it's not uncommon for it to fail to work on some computers.

Besides, there's the whole issue of security of your PDF documents. Is PDFsam secure? Some PDFsam Reddit users don't think so. So, what to do if PDFsam does not work for you? You have an excellent alternative in PDF Combine.

Benefits of Combining PDF Files

First of all, PDF Combine is an easy-to-use, offline software for merging two or more PDF files. But why would you want to do that?

For one, at some point you may need to send multiple PDF documents – as many as hundreds. The process of renaming, ordering, and sending them one by one is just tedious and time-consuming. Luckily, you can merge them using PDF Combine and then send them all as one file.

Secondly, combining multiple PDF files makes it easy to print all of them at once. Rather than sending each document to the printer individually, you can merge them into a single file and print it as one document.

Additionally, if you're doing research using PDFs, merging all your files will consolidate all your sources into one document. That's a lot easier and better than having to retrieve and open multiple documents during the course of your research.

The best part about PDF Combine is that it gets the job done in a very short time. You can merge tens, hundreds or thousands of PDF files offline in a few short minutes. Therefore, in case PDFsam does not work on your PC, get the PDF Combine installer for PC here. Need to combine PDF on Mac? Download the Mac version here. Both the Windows and Mac versions of PDF Combine are lightweight, intuitive and resource-efficient.

The Best Features of PDF Combine

- Works offline, which means you won't have to upload your PDF documents to the internet. That guarantees safety of your files and it means you can use PDF Combine to merge private and confidential documents.

- Doesn't require Adobe Acrobat. Thus you can combine PDF files without Acrobat.

- Retains all the original PDF documents as individual files with all their editing.

- Extremely lightweight and can work on old and new computers. The Windows version is compatible with all Windows operating systems from XP all through Windows 11.

- Works super-fast. Convert hundreds of PDF files in seconds. Better yet, there's no limit to the number of PDFs you can convert.

- Multiplatform program. Hence you can use PDF Combine on PC as well as Mac.

- Supports password protection to help you secure your PDF files.

- It's a multilingual PDF editor. Therefore, if PDFsam does not work in a language that you prefer, you can always turn to PDF Combine.

- Built-in auto-save feature ensures that you don't lose the original files and the combined PDF file.

- Allows you to determine the order of PDF documents before merging. As a result, you can organize the final document in the exact order that you want.


How to combine PDF files When PDFSam Does not Work: merge PDF files easily with PDF Combine

Just in case you feel like PDFsam does not work for you because it's a tad too complicated, you'll be happy to know that PDF Combine solves that issue. You can merge PDF files in just three steps.


Step 1: add the PDF files that you want to merge


There are three ways of doing this. First, you can drag the PDF documents that you want to merge and drop them on the PDF Combine interface.

Secondly, you can choose the "Add" button on the toolbar. Click on it to browse your computer where the PDF files are located. It's a great option if you want to select some documents and leave others.

On the other hand, if you want to choose all the PDF documents that are in a folder, you can opt to use the "Add Folder" option. It will open all the files that are in PDF format from that particular folder.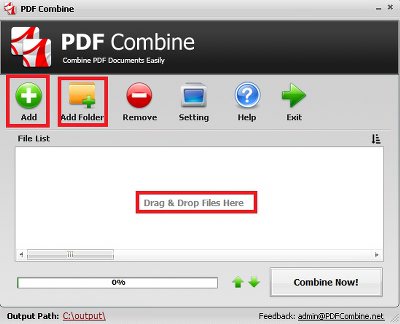 Step 2: adjust the order of PDF files (if necessary)


One of the best features of PDF Combine is that it allows you to reorder your PDF files. Use the UP and DOWN arrow buttons to move files up or down respectively.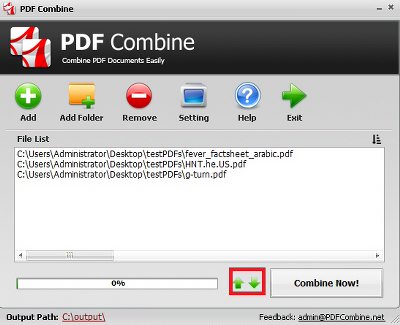 Step 3: merge PDF files


Click on "Combine Now" to merge all the PDF files that you selected.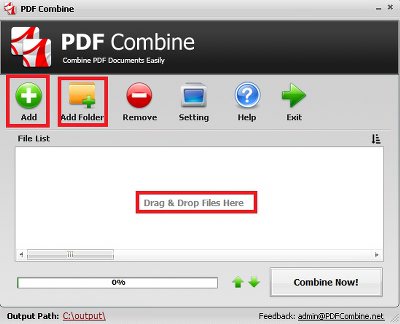 Regardless of the number of files, PDF Combine will get the job done in a few moments. More often than not it will take second and possibly minutes if the files are in thousands.

Once the program has finished merging PDF files, it will automatically open the output folder. This is a handy little feature that saves you the time you would have taken to browse your computer again.



Want to combine PDF files
on Mac
? Please try
PDF Merger Mac version
.