Combine thousands of PDF documents quickly with PDF Combine. Within three steps, your PDF documents are merged into one big PDF file without Adobe Acrobat.
How to Merge PDF Files Quickly Without Adobe Acrobat?
PDF documents had developed their reputation as one of the reliable means of data transfer. PDF documents are also known as sealed documents because when you convert a file in PDF, its information becomes unchangeable. Even a slight change of putting a comma, a paragraph, or an image becomes impossible. However, some reputable and trustworthy PDF editing tools help you make changes in your PDF documents.


Can I Merge a PDF Document in Without Adobe Acrobat Reader?

Adobe Acrobat Reader is the native software for PDF files, but most of its features are not available in its free version. If you are eyeing for a PDF tool independent of Adobe and still lets you merge your PDF files, you must choose tools with advanced technology. For instance, most PDF tools on internet use obsolete technology, and they lack built-in algorithms. They need technical support of Adobe Reader because their technology relies on using Adobe's codecs.


PDF Combine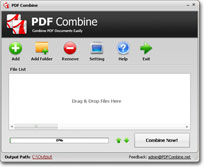 It is an ace program and uses the latest algorithms that work unaffected with the absence of Adobe Reader. You can merge and shrink thousands of PDF files in one big PDF to convenient storage and quick printouts. But here is the best part of PDF Combine, all the tough algorithms work behind the scenes, and it has the simplest graphical user interface. Even junior school students can use it without technical knowledge.




1. Complete Package

Most of the converter tools fail to function in the absence of the Adobe Reader. However, PDF Combine is designed to provide high functioning and efficient working. The absence of any Adobe plugin does not affect its functions, and it works smoothly.


2. High Compatibility with Windows

For Windows users, there is a 100% chance that PDF Combine is a match made in heaven for your PC. From older versions of Windows XP, Vista to latest Windows 11, PDF Combine is compatible with every available Windows OS.


3. No Modification in Original Content

PDF Combiner is a tool for combining PDF documents, and it does not alter the internal features of your given documents. For example, your HD graphs, photos, and images are not reduced in quality during the merger. You can say that you get what you give to PDF Combine.


4. Support for Passcode Protected PDFs

You can combine your MS office, PDF, and image files into a combined PDF document by using PDF Combine. This feature is also applicable to the passcode protected stubborn PDF files. Put your restricted PDF file into the file list menu box and see the magic of PDF Combine.


5. The Positioning of Documents in the Combined PDF

You can add your file list to the PDF Combine in the raw arrangement and arrange it later. The up-down navigation buttons let you move your selected file to change their arrangement in the output file. However, you cannot make alterations in the arrangement of selected files once your output file is ready. Why? Because PDF Combine doesn't alter the basic PDF functions in the output file and PDF files are non-editable.


6. Portable Tool without Installation

If you have low disk space, PDF Combine is a lifesaver for you. It is built to work as a portable app for desktop, and you can keep it in pluggable devices. Insert your device to your PC, and PDF Combine will work as a regular program.


User Guide for PDF Combine

PDF Combine is an independent desktop app, and you do not need to download Adobe for it. Let's see how convenient it is to use the PDF Combine app.


Step 1:
Put your PDF Files in the File list menu. Thousands of PDF files can be included in the list. You can use both the add file and add folder options for uploading your files. Moreover, the traditional drag and drop also works fine.


Step 2:
You can combine your PDFs like a book. PDF Combine gives you the liberty to change the organization of your PDF files. The output file follows your selected order exactly.


Step 3:
Finally, use the "Combine Now" button to initiate the combination process. After the completion of combining, the PDF Combine tool takes you to the saved file. You can also search the save file by typing "combinedPDF.pdf" in the explorer.



Want to Merge PDFs
on Mac
? Please try
PDF Combine Mac version
.