How Do I Merge PDF Files into One Document? [Resolved]
Are you wondering how to merge PDF files into one document? Sometimes you might need to streamline data on your PDFs by combing them into a single document. It can be quite frustrating to have a ton of PDF files lying around not knowing how you can merge them properly. You could make a new PDF from scratch consisting of only relevant information from each of the PDFs but that might take a tremendous amount of time as well as a lot of effort too.

You might come across a few programs that combine PDFs online but if they take a lot of time to merge the files, then it pretty much defeats the entire purpose of using an efficient PDF merging tool. With PDF Combine, you can merge PDF files into one document with a few easy steps.


What is PDF Combine?

PDF Combine is a software tool for both Windows and iOS that allows you to merge 100 plus PDF documents in a few minutes without any hassles. It also comes with numerous features that let you customize the way you want to merge the PDFs and comes with a very easy to understand interface that can be picked up by anyone.

Another benefit of using this tool is when it comes to printing PDFs. Instead of printing multiple PDF files one by one, you can just merge PDF files into one document and print it in one go. This saves a substantial amount of time and effort. You also have the option of Autosaving, which adds a lot of convenience in the long term.


Various Features of PDF Combine

PDF Combine offers a number of useful features that allow you to merge PDF files into one document.

1) Add Folder - With this option, there is no need to add PDF files one by one, especially if you want to merge more than 5 documents at a time. By clicking on this button, you can add an entire folder full of PDF files and proceed to merge them as required.

2) Remove - Sometimes, you might accidentally load duplicate PDFs or irrelevant ones into the tool. Thanks to the "Remove" button, you can get rid of the unnecessary files with a single click.

3) Adjust Order - By clicking on the green "UP" and "DOWN" buttons, you can change the order of the PDF files loaded into the tool. So you don't have to worry about the order in which you select the PDF files in the first place.

4) Language Support - PDF Combine supports over 50 different languages making it easy to use for people from all over the world. Add the clear and concise user interface on top and you have a program that can be used by just about anyone with zero hassles.

5) Retention of Original File - Unlike other programs, PDF combine always retains the original file and always saves the merged file separately by default. This helps to prevent a ton of frustration when compared to programs that just overwrite the original files.


How to Merge PDF Files Using PDF Combine?

Here is a step by step guide on how to merge PDFs into one document using PDF Combine.

1) There are 3 different ways in which you can load PDF files into this tool. You can either click on the "Add" button found on the top left of the toolbar or select and drag the required files from your folder into the file list. If you want to add an entire folder of PDF files, then click on the "Add Folder" button right next to the "Add" button and you will be good to go.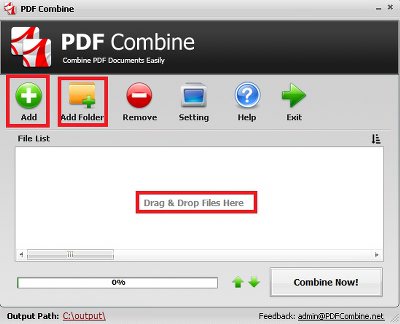 2) Once you have loaded the required PDF files, you might want to get them into the proper order. To do this, select the PDF you want to move and click on the UP and DOWN buttons found next to the progress bar at the bottom of the interface.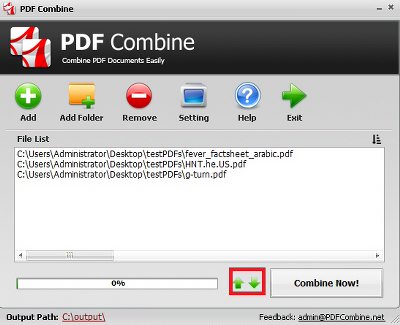 3) Next, you have to click on the "Combine Button" at the bottom left corner to combine all the PDFs loaded into the tool. Once it is done, the output folder will open and reveal the newly merged PDF file. You can change the output path at any time by clicking on it and selecting the required destination folder.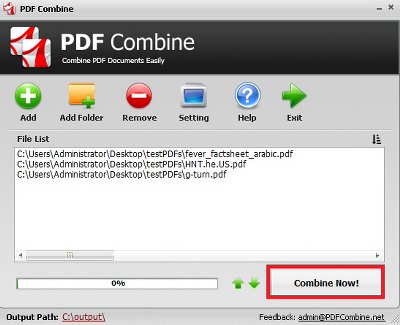 It is important to note that PDF Combine cannot merge password-protected PDFs. So make sure you unlock it before you load it into the tool. If for some reasons of your Windows authority settings, the program could not combine PDF files, try running it as an Administrator and it should be up and running. If you want to merge PDF files into one document, all you have to do is get PDF Combine.



Want to combine PDF files
on Mac
? Please try
PDF Merger Mac version
.